Media
Gilfix and La Poll In the News and Media
At Gilfix & La Poll Associates LLP, our attorneys are active participants in the field of elder law and estate planning, and have been called on by the press to discuss developments and activities related to the law. We encourage you to review the following articles, columns, podcasts, and videos here. Please note that they do not constitute legal advice. Contact us to answer any questions.
In the News

Mark talks about the definition of Special Needs from a legal standpoint, the biggest fear he sees with parents, and more.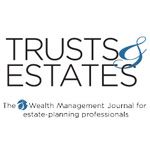 By Mark Gilfix
How we can help our clients and their children navigate new technologies and AI-based tools that can empower them to age in place, at home, in a safer and less isolated way than has ever been previously possible.

Michael Gilfix speaks at the national AICPA conference
Michael Gilfix recently gave a talk at the American Institute of Certified Public Accountants (AICPA) conference in Las Vegas.


Read a recent profile of Michael Gilfix in the Pacific Autism Center (PACE) newsletter. Michael is featured on page 4.

See Mark Gilfix explain how Special Needs Trusts are set up, and how they operate, in the Pacific Autism Center-sponsored "Porchlight" Video Series.

By Darla Mercado
Michael Gilfix discuss how to protect special needs children with the proposed health care bill cutting Medicaid funding.

By Michael and Mark Gilfix
Broaden client service by giving estate planning a multigenerational scope and being alert to new economy opportunities. This would represent a paradigm shift in methods to serve client needs.


By Michael and Mark Gilfix
Help Families Achieve a Diversity of Shared Goals. Regardless of wealth, most members of our client communities would benefit from multigenerational planning.
---
---
Videos
Mark Gilfix sat down in the offices of criminal defense attorney, and cable TV star, Melissa Lewkowicz, to discuss the 4 key estate planning documents that every American needs.
---
Mike Gilfix of Gilfix & La Poll Associates LLP of Palo Alto, the Founder of Elder Law
---
Mike Gilfix talks about what one should expect when coming in to see the attorneys at the firm. At Gilfix & La Poll, you can take care of all of your Estate Planning needs.
---
---
Protect what You've earned For Your Family